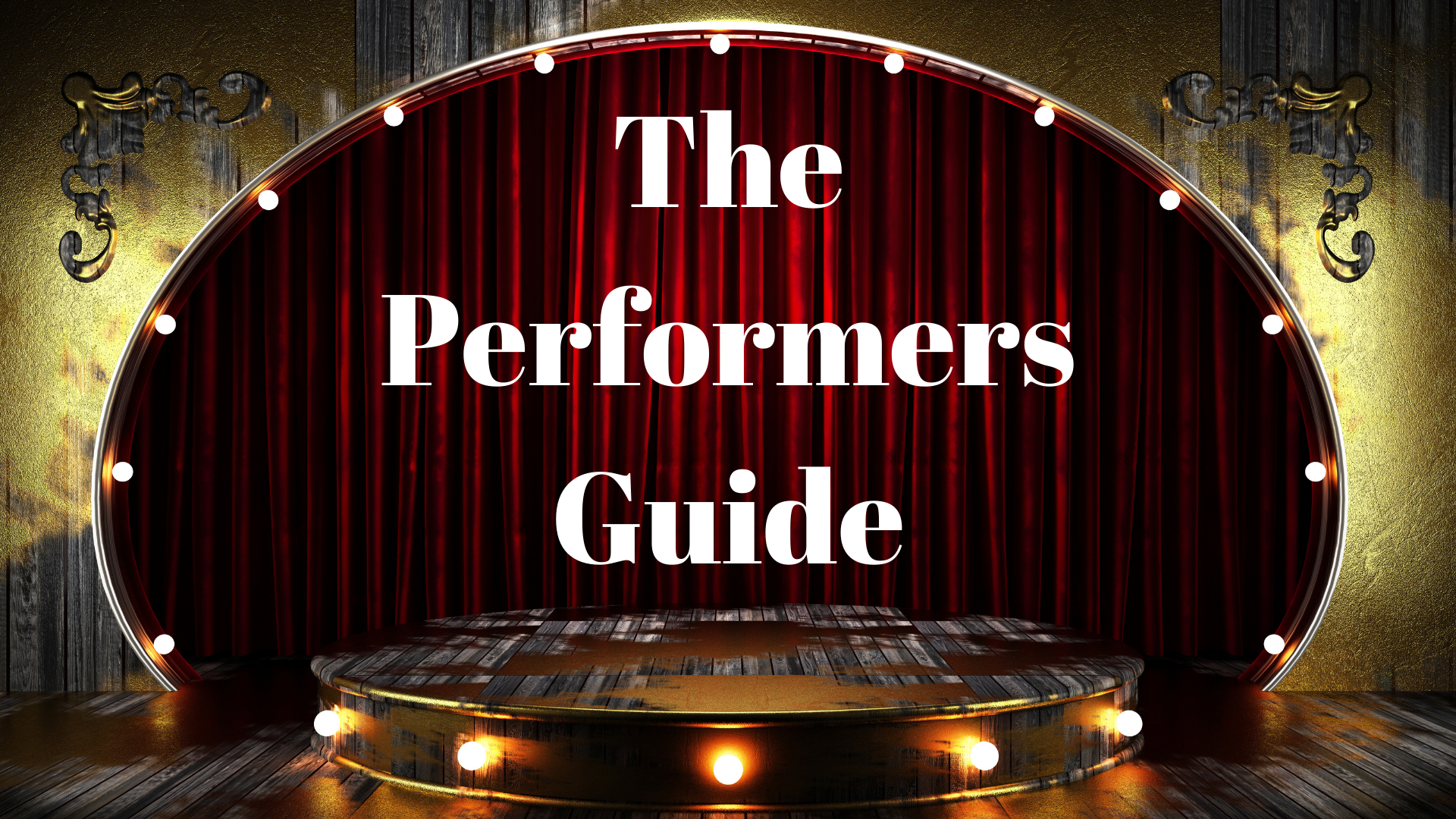 Interested in becoming a client of The Performer's Guide Program? Below are the Terms of Service agreement.
Payment Information:
The "Client" acknowledges that the fee for service is a flat fee and not based on attendance.
The "Mentor" acknowledges that they shall perform their obligations hereunder as an Independent Contractor.
The "Client" agrees to prepare and file all tax information required of a person who also hires an independent contractor and Artists agree that they have sole responsibility for the payment of any federal or provincial taxes arising from the monies paid to Artist for the service provided
Cancellation Policy:
The "Client" understands the payment is non refundable. Payment may be transferred to another date if cancellation is prior to 24 hours of event date.
The "Mentor" reserves the right to cancel this contract for any reason up to 24 hours before contracted event time with no refund to "client". Call will be rescheduled
"Client" must give "Mentor" as much notice of service cancellation as is feasibly possible in order to allow enough time to find a suitable replacement for your services. If less than 24 hours notice is given, no refund shall be issued and no transfer of service date will be allowed.
Termination Policy
"Client" failure to perform the Contract Duties to the fullest extent shall give "Mentor" authority to void contract with no refund given.
"Client" acknowledges that time is of the essence in regard to this agreement. They will use due diligence to ensure the call runs on time to the contracted time. if client runs 15 minutes late with no warning, "Mentor" shall be allowed to void contract with no deposit refund to "Purchaser".
Any deliberate breach of this contract by "Purchaser" shall render this contract null and void with full payment still due to "Mentor".
The "Client" acknowledges the time and location constraints imposed by the scheduling of multiple events on the same day, Once contract is signed, "Client" may or may not be able to change the time of the contracted call depending on "Mentor" schedule..
If the "Mentor" call is prevented in any way, rendered impossible or unfeasible by weather, any act or regulation, or by any public authority or bureau, civil tumult, strike, physical disability, death, full or partial destruction of the performance venue or emergencies, interruption of an essential public service, or any similar or dissimilar cause beyond the control of the parties, it is understood and agreed that there shall be no claim for damages by either party to this agreement, and their obligations herein shall be deemed waived, not terminated. Then "Mentor" must be compensated in full for services.
TERMINATION.
Mentor shall have the right, in its sole discretion, to terminate this Agreement upon the occurrence of any one or more of the following events:
Artistic Reasons
Client fails to act in a professional, respectful and appropriate manner at all times when interacting with or representing the Mentor and/or The Performers Guide Project.
Client Expectations:
Self Promotion:
Client shall refrain from any self promotion in The Performer's Guide Group Coaching Program including handing out business cards, goods, promoting products, selling merchandise or offering services (other than the services provided herein) at the performance except by express written permission of "Mentor".
Promotion of The Performer's Guide:
"Client" shall be encouraged to advertise and promote their involvement with The Performer's Guide" to the best of their ability. "Client" agrees to acknowledge The Performer's Guide in every advertisement, when reasonable, including, but not limited to social media posts
Advertising:
"Client" hereby acknowledges and agrees that "Mentor" may use their names, photographs, likeness, facsimile and any other promotional materials in all of such promotions, advertising or other activities used to increase attendance in The Performer's Guide program
1. Terms
By accessing this School, you are agreeing to be bound by these Terms of Use, all applicable laws and regulations, and agree that you are responsible for compliance with any applicable local laws. If you do not agree with any of these terms, you are prohibited from using or accessing this site. The materials contained in this School are protected by applicable copyright and trademark law.
2. Use License
Permission is granted to temporarily download one copy of any downloadable materials on the School's website for personal, non-commercial transitory viewing only. This is the grant of a license, not a transfer of title, and under this license you may not:

modify or copy the materials;
use the materials for any commercial purpose, or for any public display (commercial or non-commercial);
attempt to decompile or reverse engineer any software contained on the School's web site;
remove any copyright or other proprietary notations from the materials; or
transfer the materials to another person or 'mirror' the materials on any other server.

This license shall automatically terminate if you violate any of these restrictions and may be terminated by Company at any time. Upon terminating your viewing of these materials or upon the termination of this license, you must destroy any downloaded materials in your possession whether in electronic or printed format.
3. Disclaimer
The materials on the School's website are provided 'as is'. The School makes no warranties, expressed or implied, and hereby disclaims and negates all other warranties, including without limitation, implied warranties or conditions of merchantability, fitness for a particular purpose, or non-infringement of intellectual property or other violation of rights. Further, the School does not warrant or make any representations concerning the accuracy, likely results, or reliability of the use of the materials on its website or otherwise relating to such materials or on any sites linked to this site.
4. Limitations
In no event shall the School be liable for any damages (including, without limitation, damages for loss of data or profit, or due to business interruption) arising out of the use or inability to use the materials on the School's website, even if the School or an authorized of the School has been notified orally or in writing of the possibility of such damage. Because some jurisdictions do not allow limitations on implied warranties, or limitations of liability for consequential or incidental damages, these limitations may not apply to you.
5. Revisions and Errata
The materials appearing on the School's website may include technical, typographical, or photographic errors. The School does not warrant that any of the materials on its web site are accurate, complete, or current. The School may make changes to the materials contained on its web site at any time without notice. The School does not, however, make any commitment to update the materials.
6. Links
The School has not reviewed all of the sites linked to its website and is not responsible for the contents of any such linked site. The inclusion of any link does not imply endorsement by the School of the site. Use of any such linked website is at the user's own risk.
7. Site Terms of Use Modifications
The School may revise these Terms of Use for its website at any time without notice. By using this website you are agreeing to be bound by the then current version of these Terms of Use.
8. Governing Law
Any claim relating to the School's website shall be governed by the laws of the School Owner's home jurisdiction without regard to its conflict of law provisions.