Enrollment is NOW OPEN!
The Performer's Guide Stage Act Creation is now open for enrollment! This 8 week cooaching program will break down the steps needed to create a world class stage act. Let Krystin Railing share her 20+ years of choreography writing experience and help you create the stage act you've always dreamed of!
Included in Stage Act Creation
✅ 8 Zoom Calls with Krystin Railing
✅ Enrollment into The Performer's Guide Stage Act Creation
✅ Community Support in a Private Facebook Group
✅ Community Support in a group Messenger chat
✅ Printable Worksheets, Templates and Forms
Stage Act Creation Course Curriculum:
🎭 Elements of Drama
🎭 Layout of Theaters
🎭 Decide Your Concept
🎭 Choose Your Music
🎭 Trick Sequencing
🎭 Writing Choreography
🎭 Costuming
🎭 Stage Presence
🎭 Stage Management
🎭 Auditions
🎭 Rehearsals
🎭 Costuming
🎭 Property
🎭 Hair & Wigs
🎭 Stage Makeup
🎭 Elements of Drama 🎭
The term "drama" comes from a Greek word meaning "action".A Drama is the specific mode of fiction represented in performance: a play, opera, mime, ballet, performed in Theatre, Radio and Television. In Poetics, Aristotle wrote that drama (specifically tragedy) has to include 6 elements: Plot, Character, Thought, Diction, Music, and Spectacle. Learn how to incorporate all 6 into your stage act.
🎭 Layout of a Theater 🎭
There are different types of theatres, but they all have three major parts in common. Theatres are divided into two main sections, the house and the stage; Learn about the tpes of theatres, stages, front of house, backstage and offstage and how to navigate them all with grace and ease!
🎭 Decide Your Concept 🎭
Before you begin, it is important to understand what the purpose of this choreography is, who it is for, what emotion you are trying to convey and what story you are trying to tell. This will help increasr your connection to the audience. Learn how to create a " hook" that makes your act stand out from the others.
🎭 Musicality 🎭
Learn musicality and how to use the architecture of the music to create your choreography, Choosing the right song will set you up for success if it has level changes, pitch changes, speed changes, highs and lows. Choose your song based on who you are as a performer and that matches the emotion you are trying to convey to the audience.
🎭 Blocking your Act 🎭
Learn several underlying blocking techniques that are commonly used in choreography for two or more dancers. Learn blocking formations and group positioning transitions that will make your routines look stunning and seamless. Learn relationship dynamics and how to utilize status roles, plot, and character development for dynamic stage shows. Learn how to list your dance and prop tricks and turn them into short sequences that you can easily drill and reuse in different acts. Then fit those sequences and tricks into the music to create choreography!
🎭 Writing Choreography 🎭
Learn about different choreography writing styles commonly used by choreographers, how to break your song up into sections and write the times of any significant moments in the song. Learn how to notate musical timing, breaks/ changes and how to create choreography based on lyrics.
🎭 Costuming 🎭
Learn what to consider when choosing your costume, such as fit, function, style, purpose, how to do character research and create a mood board for your look so you can create a costume that is true to the time period. Learn what costumes are ideal for fire and aerials and how to choose props, utilize them, and be sure they match with your needs as a performer!
🎭 Stage Presence 🎭
Learn how to create a stage character and have a stage strong presence that holds your audience's attention, from entrance to exit. Learn how to utilize the 4th wall, interact with your audience, and how to command the attention and applause you desire.
🎭 Entrances and Exits 🎭
Learn how to have a strong entrance and exit that will keep your audience on their toes from start to finish. Learn different options available to you and how to leverage them for an interesting act that will peak the interest of the producer and audience.
🎭 Stage Makeup 🎭
Because stage actors are seen from farther away than actors on screen, it is crucial that their makeup is more dramatic and professionally done. Lighting controls makeup to and makeup can lose its effectiveness due to incorrect stage lighting. Learn skillful lighting techniques that can help you with your makeup. Learn how to have close communication between the lighting director and the makeup artist for the best possible effect.​​
🎭 Hair and Wigs 🎭
Learn how to style your hair or wear a wig for your stage act. There are 4 things to consider when wearing a wig: preparing Your natural hair, the wig cap, putting on The wig, storing the wig. Learn where to buy hair accessories.
🎭 Rehearsals 🎭
There are 6 types of rehearsals, Reading, Blocking, Working. Polishing, Technical Rehearsal and Dress Rehearsal. Learn how to create structured rehearsals like a professional.
🎭 Auditions 🎭
Once you have a solid stage act, you will need to learn how to navigate auditions and open casting calls Learn Find & apply to casting calls & auditions in your city. ​and what you will need to stand out from the crowd in any audition.​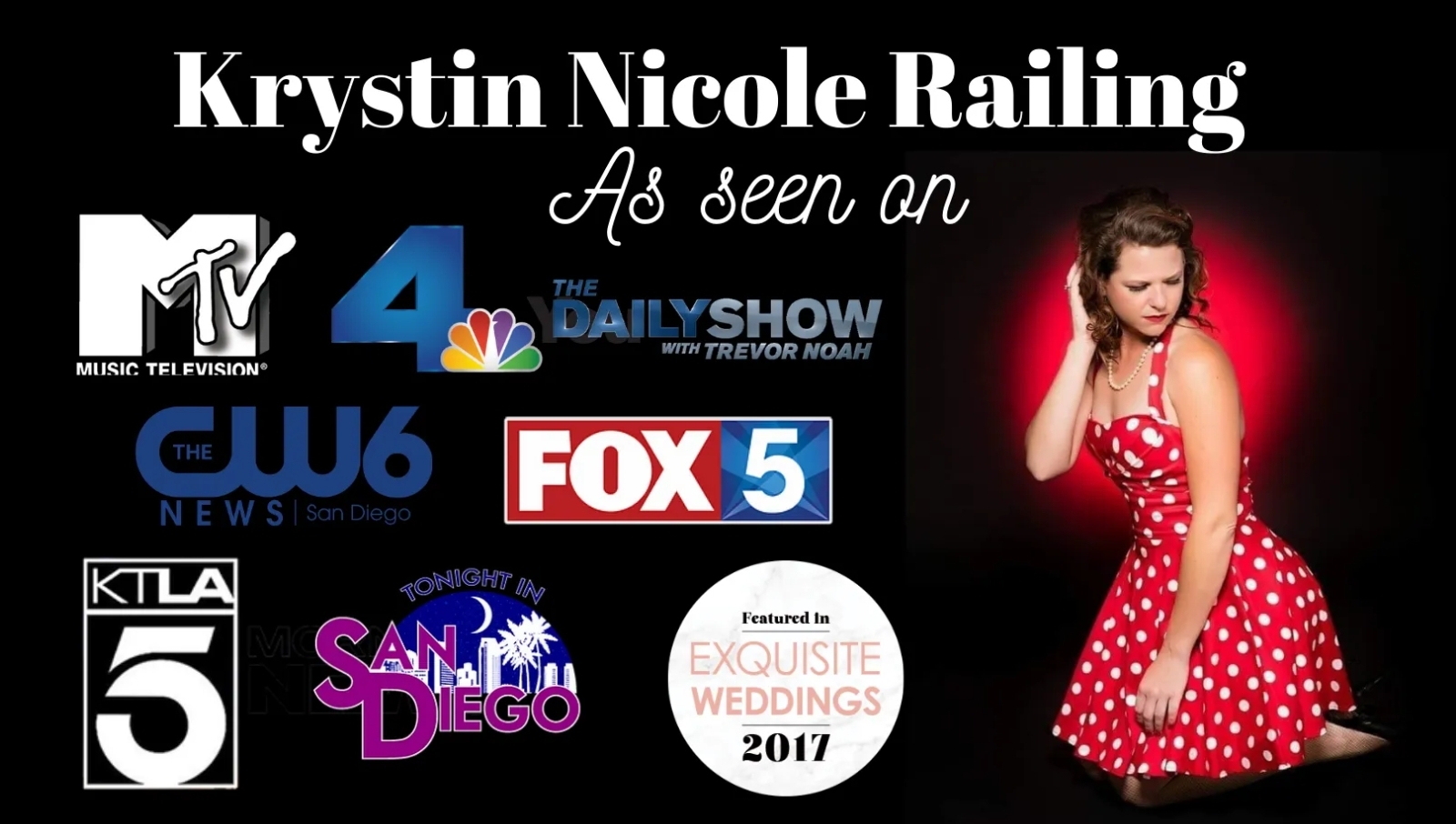 Let Krystin Railing Share Her 10+ Years of Experience With You!!
Krystin Railing is a classically trained dancer and a professionally trained circus performer who has performed in 10 states within the United States and over 20 countries on 3 continents including North America, Bahamas, Caribbean, Central/South America and Europe!
Krystin Railing has been performing Hula Hoops internationally since 2009 and has been showcased at Seaport Village Buskers Festival, the Fringe Festival, and The House of Blues She has performed hula hooping on Norwegian Cruise Lines and has been featured on numerous news programs, late night talk shows, magazines, new papers and blogs for her incredible hula hooping skills. She was on the awards committee for the Hoopie Awards for 5 years and has been nominated for several awards.
Krystin Railing is a world renowned and internationally travelling professional Juggler. She learned to juggle in 2010. She was also the Communications Director for the International jugglers Association in 2019.
Master Fire Manipulator, Krystin Railing is a certified Firewalking Instructor and Empowerment Coach through The Firewalking Center. She is fully insured and covered for fire through Specialty Insurance. She is also certified in Fire Prevention and Fire Fighting through the Southwest Maritime Academy, and has a Fire Safety Certification from The Flow Arts Institute. She has led and produced Firewalks across the country including California, Georgia, and New York.
Frequently Asked Questions
Can I get a refund if I'm unhappy with my purchase?
If you are unsatisfied with your coaching, reach out to us to see if your purchase is eligible for a refund.
As stated in Teachable's Terms of Use, Coaching IS NOT covered by Teachable's 30-day student refund policy. As such, we highly recommend that you add your own refund policy here.
How do I schedule my appointment?
Upon purchasing coaching, you'll receive further instructions on how to book a time for your appointment.
Can I purchase coaching more than once?
Absolutely! If you find yourself in need of coaching more than once, simply purchase the coaching again.